Active Learning Classes
In the day and age where handmade products made from natural materials are being re-examined, we are conducting some "active learning" classes so that the charm of bamboo craft can be experienced in a short time.
Take-Suzu (Bamboo Bell)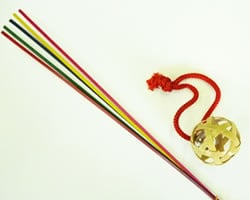 The experiment consists of inserting five color bamboo sticks in to a bamboo bell.
Fee : 500yen
Time : About 40minutes
Applicants : For elementary school students and above
Please make a reservation at least a week before.
Shikainami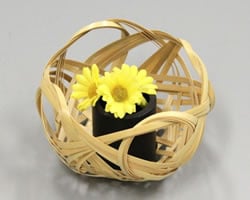 We have prepared an active learning set wirg the lower section already woven.
The participent will weave the bamboo strips into a round well shape.
Decorative flowers and small objects can be inserted to make a cute atmosphere.
Shikainami is made at many important events and is an alauded bamboo craft.
Fee : 2000yen
Time : About 1hour
Applicants : For ages 13 and up
Please make a reservation at least a week before.
When making a reservation for ten or more people, an instructor will lead the class. We may not be able to accommodat everyone depending on the schedule. We apologize in advance for the inconvenience.
Due to a shortage of materials, we are suspending reservations for Shikaiha flower basket production until mid-October.
We will accept reservations after late October.
Requests・Inquiries

竹細工伝統産業会館(Beppu City Traditional Bamboo crafts Center)

Phone Number

0977-23-1072

Reservations

Reservations are necessary for the active learning classes.
Please contact us in advance.
We may ask to change the date if there are too many reservations.
We apologize in advance for any inconveniences.